Introduction
Human resource development has always been one of the prime thrust areas of the India Meteorological Department for capacity building and to keep pace with latest trends in various activities of the Department. The Meteorological Training Institute (formerly CTI) of the India Meteorological Department (IMD) is a World Meteorological Organization (WMO) rated Regional Training Centre (RTC), headed by Deputy Director General of Meteorology (Training), and is situated at a pleasant location at Pashan in Pune. IMD is the national meteorological and hydrological service of the country and the principal government agency in all matters relating to Meteorology, Seismology and allied subjects. Facilities for meteorological training at Pune and New Delhi have been recognized by the WMO to function as RMTC in all the four main disciplines namely, General Meteorology, Radio-meteorology, Telecommunication and Agro-meteorology.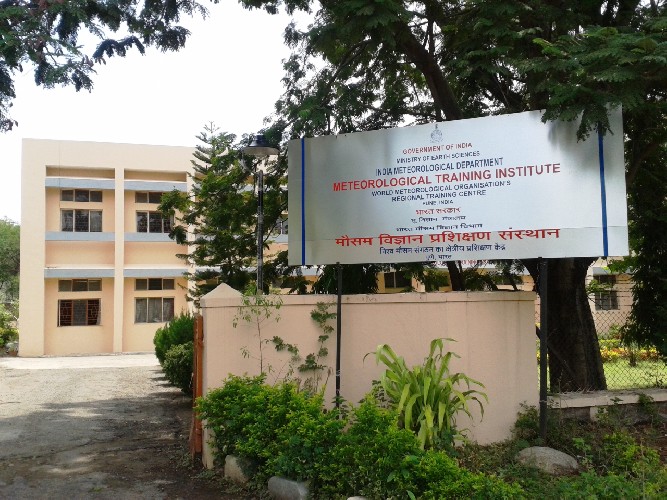 The Meteorological Training Institute of IMD has a distinguished history dating back to 1942 when it had a humble beginning as an outcome of World War II wherein the need for meteorological training to the personnel working in IMD was acutely felt and, consequently, a formal training course started in that year. In 1943 a full-fledged training school started in Pune, India. Since then this training institute (MTI) has undergone dramatic changes in its training capabilities, composition, objectives, contents, etc, in catering to personnel covering all levels from Class I to Class IV. IMD also opened training centres at New Delhi for Upper Air Instrumentation and Meteorological Telecommunication in mid seventies. Since its inception its mission has always been to achieve excellence in education researcher and service to meteorological community and thereby to the society.
Recognition
The WMO Executive Council at its thirty-eight session approved the designation of the training facilities of India Meteorological Department in New Delhi and Pune as WMO Regional Training Centre (RTC) for the Regional Association II (Asia) in the year 1986. However, in accordance with the procedures laid down for the formal recognition of the RMTC, an agreement was drawn up and signed on the behalf of India by Dr. R. P. Sarkar, the then Director General of IMD and the on behalf of WMO by the Professor G. O. P Obasi, the Secretary – General of WMO on June 15th 1988, a red letter day in the annals of MTI.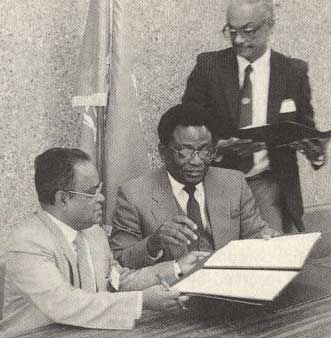 Dr. R. P. Sarkar and G. O. P Obasi
signing the agreement of RTC in India
on 15th June, 1988
International Users
Nominations from WMO
Respective National Meteorological Organizations (mainly RA II: at times requests from other regions are also catered to)
IMD's VCP, UNDP, ITEC, Programmes
Our Objectives
Within its several objectives and responsibilities, the objectives and responsibilities of prime importance are
To provide training to support operational activities
To support career development of IMD personnel
To conduct periodic refresher courses to maintain and enhance job competency
To respond to trends, developments and evolving needs in keeping with the rapid technological and scientific advancements
To improve scientific content of research in IMD
To provide facilities for staff to acquire higher education in the field of meteorology and related sciences
To provide appropriate infrastructure, administrative and managerial, for departmental and extra-departmental examinations
To monitor and evaluate the training processes to determine improvements, changes and corrective measures
To customize and effect quick changes in the curriculum to make it a "State of the Art" course.
To function as an effective RMTC for Regional Association II.
National Users
MTI caters to nominated trainees from several organizations National Organizations :
Defense Services (Indian Air Force, Indian Navy, Indian Army and Coastguards)
Indian Institute of Tropical Meteorology (IITM)
Indian Satellite Research Organization (ISRO)
Maritime States on cyclone warning and management
National centre for Medium Range Weather Forecasting (NCMRWF)
National Salt Commission (NSC)
National Water Academy, Khadkwasala, Pune
O/o Director General of Civil Aviation
Personnel from various national organizations have also availed the facilities
Private Airports (CIAL Cochin, Satya Sai Air Port, Puttaparthi, Lakshadweep Administration, etc.)
Satellite Applications Centre (SAC)
Snow and Avalanche Research Centres (SASE)